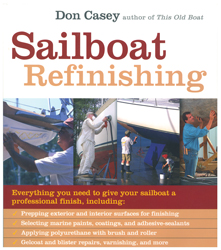 BOOK SAILBOAT REFINISHING SOFT COVER
Brand:
Part Number:

BK-0071486585
HM Order #: 173967
Sailboat Refinishing by Don Casey Of all the improvements to a tired-looking boat, none will have a more dramatic impact than refinishing. And few boat tasks are easier. This is a combination forged in Valhalla, which makes it surprising that Sailboat Refinishing is the first basic book on the subject. Author Don Casey focuses on the hulls, decks, cabins, spars, and wood trim of fiberglass boats. Painting, varnishing, repairing gel coat, and applying hull graphics are all covered with step-by-step illustrated instructions.
*Product images are for illustration purposes only and may not be an exact representation of the item. Please refer to item description.