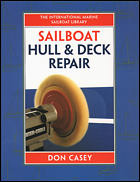 BOOK SAILBOAT HULL AND DECK REPAIR
Brand:
Part Number:

BK-0070133697
HM Order #: 120086
That fiberglass is malleable, durable, and easy to maintain is well established. But it is also easy to repair, and here is the book that will make that virtue common knowledge. Among the repairs covered: rebedding deck hardware, replacing portlights, fixing leaky hull-deck joints, and repairing cracks, holes, blisters, gouges, and other ailments mortal fiberglass flesh is heir to.
*Product images are for illustration purposes only and may not be an exact representation of the item. Please refer to item description.