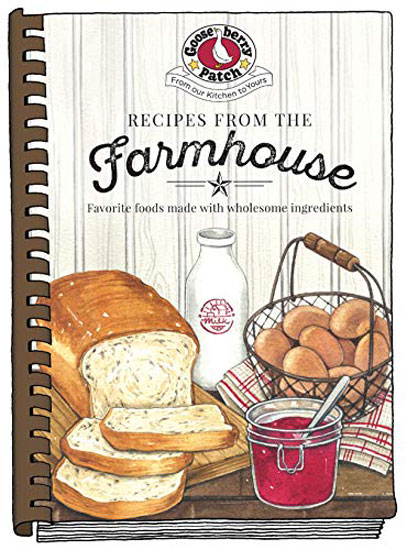 BOOK RECIPES FROM THE FARMHOUSE
Brand:
Part Number:

BK-9781620933480
HM Order #: 776349
If you're like us, you always get carried away at the farmers' market, filling your basket with heaps of fruits and vegetables. Everything looks so fresh and tasty! But once you get home, maybe you wonder how to prepare them in ways that will tickle your family's taste buds. Wonder no more...here's your answer!

In Recipes from the Farmhouse, you'll find a delicious harvest of easy recipes to add more fresh produce and other healthy ingredients to family meals. Start the day off with Country Breakfast Pie and Very Blueberry Coffee Cake. For lunch, how about Roasted Sweet Corn Chowder and a basket of warm Ginger Squash Muffins or Easy Pan Rolls?
At dinnertime, serve up flavorful dishes like Grandma Simms' BarBQ Chicken, Herbed Marinated Pork Chops, Baked Stuffed Eggplant and Sun-Dried Tomato Meatloaf. Round out meals with Grand Champion Broccoli Salad, Cheerful Black Bean Salad, Granny's Fried Green Tomatoes and Garlic Creamed Potatoes.
*Product images are for illustration purposes only and may not be an exact representation of the item. Please refer to item description.