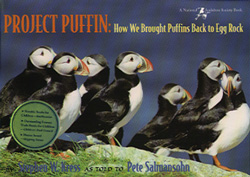 BOOK PROJECT PUFFIN SOFTCOVER
Brand:
Part Number:

BK-0884481713
HM Order #: 144013
With their large, colorful beaks, their upright posture, and their big, dark eyes, it's easy to see why puffins are popular all over the world. But for the past hundred years, puffins along the coast of Maine have been threatened with local extinction. Biologist Stephen Kress decided to try to bring puffins back to Maine with an experiment that had never been attempted before. Stunning color photographs on every page capture each step of this wildlife success story. As you learn about The Puffin Project, you'll also learn all about puffins how they are so wonderfully adapted to their ocean environment, how they catch fish, socialize, nest in burrows, and raise their young.
*Product images are for illustration purposes only and may not be an exact representation of the item. Please refer to item description.