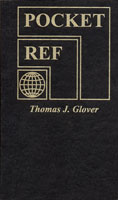 BOOK POCKET REFERENCE 4TH EDITION
Brand:
Part Number:

BK-1885071620
HM Order #: 736918
Pocket Reference Book 4th Edition. This great little book is a concise all-purpose reference featuring hundreds of tables, maps, formulas, constants & conversions and it still fits in your shirt pocket. Perfect for do-it-yourselfers, engineers, craftsmen, students, teachers, managers, maintenance & industrial personnel, and travelers. Automotive, Carpentry & Construction, Electronics & Electrical, First Aid, Glues & Solvents, Mine & Mill, Weights and Properties of Materials, Chemistry & Physics, State and World Wide Area Codes, Rope & Chain, Weather, Geology, Science, Math, over 3500 Conversion Factors and much, much more. Soft cover book. 864 pages. 4th Edition
*Product images are for illustration purposes only and may not be an exact representation of the item. Please refer to item description.