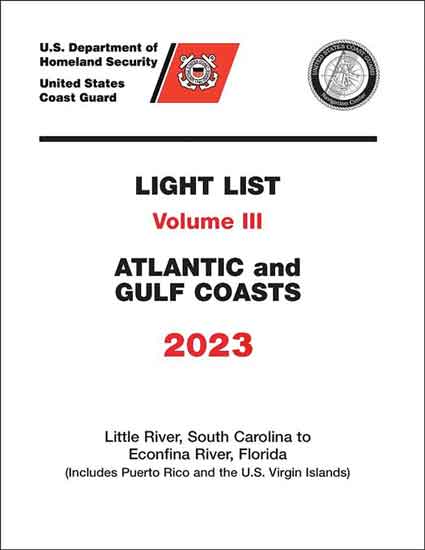 BOOK LIGHT LIST VOL3 2023 ATLANTIC & GULF COAST S CAROLINA-FLORIDA
Brand:
Part Number:

BK-LL323
HM Order #: 759348
2023 Light List: Volume 3 - Little River, South Carolina to Ecofina River, Florida (Includes Puerto Rico and the U.S. Virgin Islands). The USCG Light List is published in seven volumes and contains lights and other aids to navigation used for general navigation that are maintained by or under the authority of the U.S. Coast Guard and located in the waters surrounding the United States and its Territories.

Each volume corresponds to a different regional area and contains more complete information on each aid to navigation than can be conveniently shown on charts. This publication and the data contained within it is maintained by the USCG and published with permission by ProStar. New editions are published annually for each volume. 80 x 11.
*Product images are for illustration purposes only and may not be an exact representation of the item. Please refer to item description.