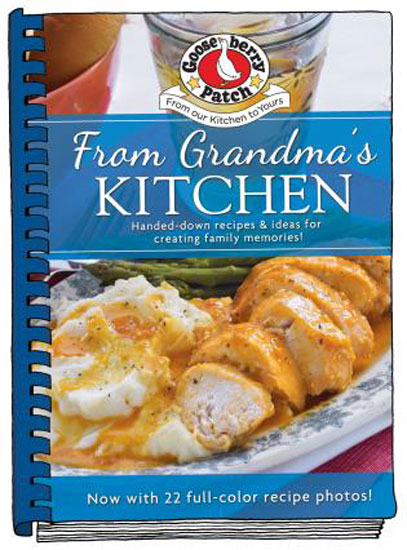 BOOK FROM GRANDMA'S KITCHEN
Brand:
Part Number:

BK-9781620932698
HM Order #: 776352
There's always something special about Grandma's kitchen. Maybe it's the aroma of homemade bread and roast chicken for Sunday dinner. Or it might be a plate of chocolatey fudge or a juicy pie cooling on the windowsill. Whatever makes it special for each of us, it seems we can hardly wait to see what goodies are in store!

If you love swapping recipe cards with friends & family, you'll find From Grandma's Kitchen chock-full of old-fashioned favorites you'll want to pass along. Handed-down recipes like Grandma's Old-Fashioned Doughnuts, Country Biscuits & Eggs, Homemade Chicken Noodle Soup, Country Fried Steak, Golden Macaroni & Cheese, Lemon Meringue Pie and Iced Shortbread Cookies.
We've also given you lots of easy tips for sharing vintage finds, it's oh-so simple to make a button charm bracelet and a centerpiece can be a snap when you tuck cheery blossoms into nostalgic eggcups. You'll also find lots of ideas for bringing family & friends closer together. So cozy up with our collection of tried &true recipes they'll bring back fond memories and make family times even sweeter.
*Product images are for illustration purposes only and may not be an exact representation of the item. Please refer to item description.