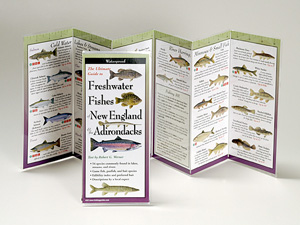 BOOK FRESHWATER FISH OF THE NORTHEAST IDENTFICATION
Brand:
Part Number:

FGG-NEF-175
HM Order #: 174381
54 species commonly found in both warm and coldwater lakes and streams - Includes preferred bait and edibility index for each species, as well as detailed text prepared just for the New England angler - Classic illustrations by Ellen Edmondson and Hugh Chrisp commissioned by the New York State Dept. of Conservation - Species selection and text by Dr. Robert Werner, professor emeritus of environmental science at SUNY - Indestructible waterproof lamination - Instant access to just what you need to know. Perfect for boat or tackle box
*Product images are for illustration purposes only and may not be an exact representation of the item. Please refer to item description.