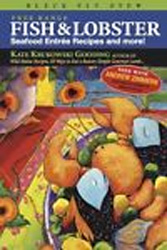 BOOK FREE RANGE FISH & LOBSTER SEAFOOD RECIPES
Brand:
Part Number:

DL-597-2-1
HM Order #: 754298
Within these pages you'll read the story of a lobster stew that has been carried down in one family for more than 200 years. Your mouth will water as you read the eclectic seafood combinations paired with wine, beer and spirits, including an explosively flavorful Gluten-Free Cusk Puntanesca and mind-opening Dairy Free Pollock Chowder. Free-Range Fish & Lobster provides yet another creative look and taste to Maine seafood, including overlooked but delicious fresh caught species. A former restaurateur, entrepreneur and marketer, ate shows her uncanny understanding of the world s varied tastes I al her cookbooks. She enjoys sharing her travels, spice tips and knowledge of the simple dishes you can create right from your own kitchen cabinet. A
*Product images are for illustration purposes only and may not be an exact representation of the item. Please refer to item description.