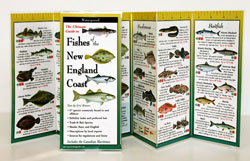 BOOK FISH OF THE NEW ENGLAND COAST INDENTIFICATION
Brand:
Part Number:

FGG-FNE-148
HM Order #: 172260
57 species commonly found inshore, nearshore, and in blue offshore waters - Includes preferred bait and edibility index for each species, as well as detailed text prepared just for the New England inshore and offshore fisherman - Illustrations by Diane Peebles, nationally known illustrator - Species selection and text by Eric Brazer, local, Chatham-based expert - Indestructible lamination - water and beachproof - Instant access to just what you need to know. Perfect for boat or tackle box
*Product images are for illustration purposes only and may not be an exact representation of the item. Please refer to item description.