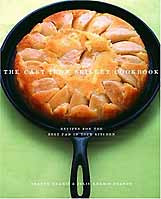 BOOK CAST IRON SKILLET COOKBOOK
Brand:
Part Number:

BK-SQB010
HM Order #: 167191
90 delicious, proven recipes for the best, and possibly cheapest, pan in any kitchen. Recipes range from Dungeness Crab Cakes to Warm Pear Ginger Upside Down Cake. Get the most from the original gourmet cooking tool. Color photos, great advice.
*Product images are for illustration purposes only and may not be an exact representation of the item. Please refer to item description.