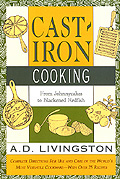 BOOK CAST IRON COOKING COOKBOOK
Brand:
Part Number:

BK-1558211152
HM Order #: 167968
Nothing cooks better than cast iron. Here at last is a cookbook for this most simple and versatile cookware, favorite of campfires and country kitchens for generations. With complete directions for seasoning and care, Cast-Iron Cooking features over 75 recipes, from johnnycakes to blackened redfish - all ladled out with A. D. Livingston's unique blend of good humor, savvy cooking sense, and plain talk. Cast-Iron Cooking is a back-to-basics classic that cooks everywhere will love. (5 1/2 X 8 1/4, 144 pages, illustrations)
*Product images are for illustration purposes only and may not be an exact representation of the item. Please refer to item description.