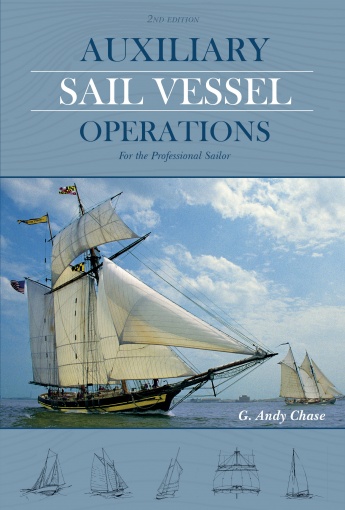 BOOK AUXILIARY SAIL VESSEL OPERATIONS 2ND EDITION BY G. ANDY CHASE
Brand:
Part Number:

BK-870336430
HM Order #: 762423
Auxiliary Sail Vessel Operations, 2nd Edition: For the Professional Sailor by G. Andy Chase

Revised and updated 2nd edition

This text has been developed to provide a firm foundation for men and women working toward earning US CoastGuard licenses to operate auxiliary-powered sailing yachts and vessels. Initially created as a course curriculum for classes in sailvessel operations at the Maine Maritime Academy, thisrevised and updated second edition contains new material on bridge resourcemanagement, risk assessment, safety aloft, and more. Designed to accompany thesailor as a study guide and point of reference, it calls attention to themyriad constant and critical elements of professional yacht and vesselmanagement in both theory and practice. Subjects covered include seamanshipaboard sailing vessels, relevant hydrodynamic and aerodynamic theory, basic andadvanced sailing maneuvers, planning and managing for crew and vessel safety,meteorology for sailors, heavy-weather sailing, emergencies at sea, and vesseladministration as related to Coast Guard rules and regulations.
*Product images are for illustration purposes only and may not be an exact representation of the item. Please refer to item description.