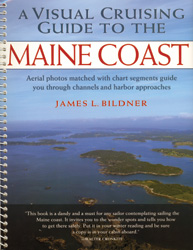 BOOK A VISUAL CRUISING GUIDE TO THE MAINE COAST
Brand:
Part Number:

BK-0071453288
HM Order #: 171482
A Visual Cruising Guide to the Maine Coast by James L. Bildner. More than 180 full-color aerial photographs that provide "by-the-picture" navigational guidance for Maine's treasured harbors, difficult passages and hidden approaches. Chart segments and recommended course lines on low altitude photos give you a unique at-a-glance guide to sailing around Maine. It's like cruising with a masthead lookout to point the way.
*Product images are for illustration purposes only and may not be an exact representation of the item. Please refer to item description.