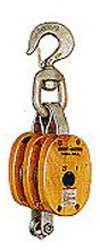 BLOCK ROPE WOOD 4" DBL W/SHV SWL 1400# 1/2" ROPE

Brand:
Part Number:

HM-53050027
HM Order #: 170924
4" double sheave wood block. For 1/2" rope diameter. Working load limit is 1,400 pounds. Sheave lubrication through pressure lube fitting in center pin. All steel parts are hot dip galvanized. Assembled with self-lubricated bronze bushing. All fittings are drop forged. Edges of sheaves are rounded to reduce wear and chafing of rope.
*Product images are for illustration purposes only and may not be an exact representation of the item. Please refer to item description.