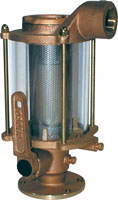 GROCO BALL VALVE SEACOCK RAW WATER STRAINER COMBO 1.50"


Brand:

Groco
Part Number:

GRO-BVS-1500
HM Order #: 153307
Groco Ball Valve Seacock Raw Water Strainer Combo With Stainless Basket 1.50"

Features:

*Made in USA
*Square hole in handle accepts standard ratchet.
*1.25" sizes and larger include one grease zerk fitting for lubrication (use only with the valve in the open position), and one drain plug. The zerk can also be used for draining.
*Space saving design with strainer and integral seacock.
*Just one component to install and just one bilge location to access for winterization and maintenance.
*No inside tie rods.
*C84400 bronze construction.
*Full flow ball valve with stainless steel ball and stem.
*Strainer has screw on/off cap.
*#304 stainless steel filter basket.
*Measurments: 15" High x 8" Wide. Base: 5.25" Bolt hole pattern: 4.5"
*Product images are for illustration purposes only and may not be an exact representation of the item. Please refer to item description.