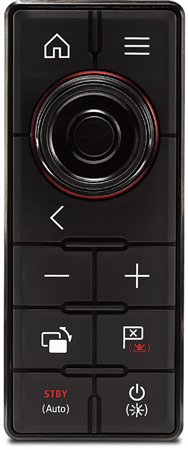 AXIOM WIRED REMOTE RMK-10 POTRAIT & LANDSCAPE KEYPAD
Quantity Available:

In Stock
Part Number:

RTH-T70293
HM Order #: 767690
The new Raymarine RMK-10 Remote Keypad is an ultra-compact wired keypad accessory that provides full control of aSeries, cSeries, eSeries, eS Series and gS Series Multifunction Displays (MFDs) from any mounting location.

Utilising Raymarine's RayNet high speed networking, the RMK-10 can be setup to control a single multifunction display, or multiple displays mounted at the same location. When controlling multiple displays on the same helm, the RMK-10 provides seamless control across all of the displays.

When used with aSeries or gS Series Multitouch displays, the RMK-10 brings full HybridTouch(TM) control capability to these products. The RMK-10 integrates seamlessly with the LightHouse II user interface and allows the navigation system to be operated solely by touch, by keypad, or any variation between.